Interview with Diana Studenberg from Trope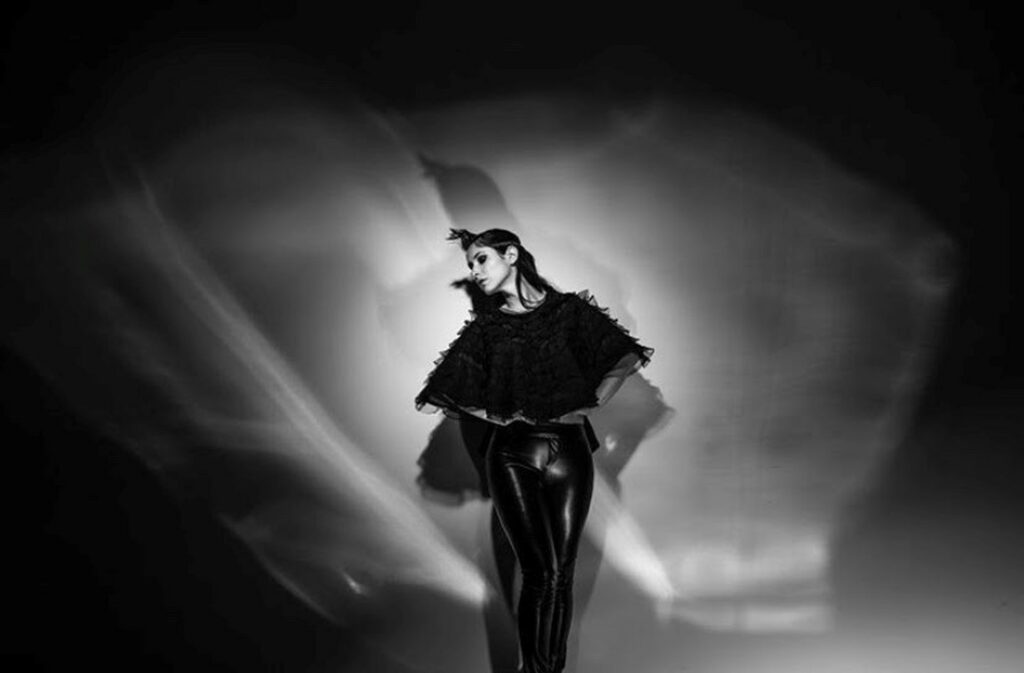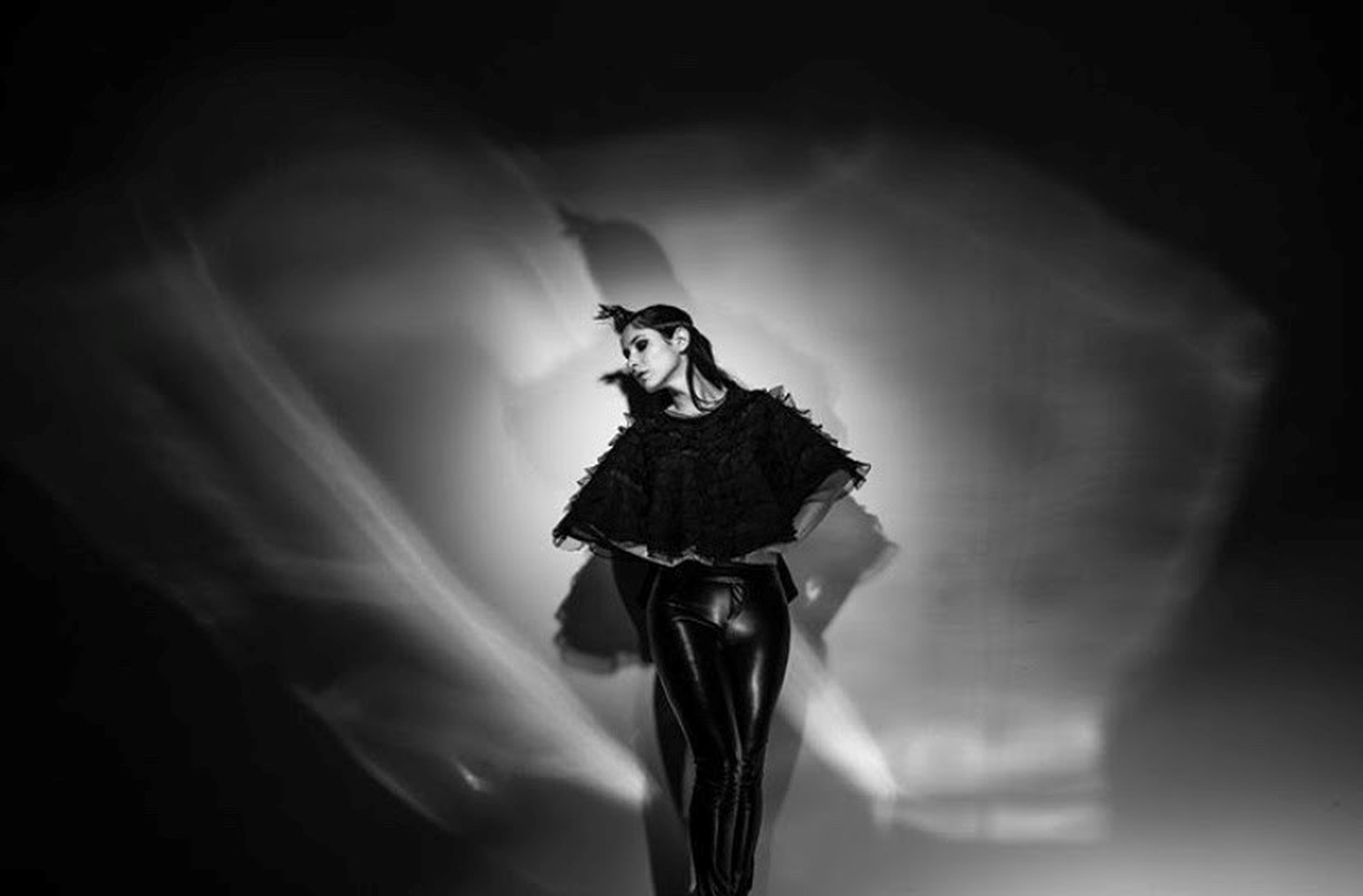 Last Updated on 27. August 2021 by Oliver
Montreal, Los Angeles, Toronto – and right now Sofia. No question about it: Diana Studenberg gets around a lot. Which, on the other hand, is hardly surprising. Because cosmopolitanism was practically born in her cradle. Her father has German, Belgian and Polish roots and grew up in Montevideo / Uruguay. Her mother is of Spanish-Moroccan descent. She hails from Montreal, now resides in Ontario – and also commutes in her professional life between two worlds: music and acting.
So it was quite a lot of luck to catch the singer for an interview in Bulgaria – not in person, but at least via video chat. There she is currently working intensively on her musical career in Alternative Prog band Trope, which has already caused quite a stir in the Rock scene with their debut Eleutheromania – not only in Canada and the USA, but also in Europe. Especially in the eastern part of our continent, Trope have already earned a considerable reputation after past tours through Romania and Bulgaria. Since mid-July, the band is staying once again in the Bulgarian capital Sofia.
Why are you in Bulgaria right now?
We actually just played a show for "Rebel Rebel" fest that Projector Plus organized, a PR and booking agency out here. And it was awesome. It was so nice to get to play again.
Are there more shows planned during your stay?
We've got some shows planned throughout August and some other ones that we're currently looking at. They're gonna be as well in Bulgaria. And then we're figuring out our next moves. We've got a few potential tours in the works.
Did all five band members travel to Bulgaria?
No, it's just Moonhead, the guitar player, and myself. Travel is as you know a little bit tricky right now. We're definitely hoping for the tours to get the guys out.
I didn't know what the word meant either.

D.S. about the strange title of Tropes debut album
The title of your debut Eleutheromania means "Intense desire for freedom". What's the story behind that?
Actually, Moonhead chose the title. I didn't know what the word meant either. I was like: what?
I think it just really plays well with all the themes of the songs and the lyrics. I mean, it's such a recurring theme. What does freedom mean? I think it can mean many things. For me, a big part of freedom is awareness, like self-awareness. I think that just creates more space within you, to come from a place that's more centered. And therefore kind of free you in that sense. So a lot of songs grapple with different concepts surrounding that.
Does the album title have something to do with the pandemic and daily pressures for everyone?
No, because we wrote it before. Maybe it was a foreshadowing of things to come.
I think just living in the world, I have just seen the different cages people have build around themselves or that I have. We kind of do it to ourselves, not intentionally necessarily but through just listening to limitations or things you can or can't do or who you should or shouldn't be. It's not involuntary, but it can be if you're not looking at these things. And all of a sudden they seep into your belief system, and you allow those walls to just stay there. It was kind of explorational based on personal experiences. Just how do you create a little bit more space for yourself?
Is the cover with the winged pigs a hint to the classic Pink Floyd album "Animals" from 1977?
To be honest, Kris Pearn is an animation director and he designed the cover. It was actually his idea. He hadn't seen the Pink Floyd cover first. It was his idea that the pigs are flying away from the slaughterhouse towards freedom. And then the closer they get to, I guess, the camera the clearer and more defined they get. So the further they get away from the enslavement, the more they come into focus.
We love Storm Thorgerson, who designed a lot of Pink Floyd covers.

D.S. about the album cover that resembles "Animals" by PF
We'd sent him some visual references after he came up with that idea. We love Storm Thorgerson, who designed a lot of Pink Floyd covers. And Dream Theater ones as well. He's just amazing. We did look for inspiration from him as well as other artists.
The sluggish bass riff by Tool comes up right at the start of the first song "Lambs". Are you inspired by them?
We love Tool. Some of their songs are masterpieces and they're incredible. But we actually haven't heard that much Tool and Moonhead heard less Tool than I have. He only knows their famous songs he's heard on the radio. I mean for him, this style of music is just very natural and comes out. And sure things you heard 10, 15 years ago maybe seep into your psyche and then you get inspired by them. But he doesn't go: "Okay, I'm just gonna listen to Tool now and then write a riff…" He never did that.
And when I'm writing melodies, I'm not like: "I wonder what Maynard did." I mean: I love what they do, they're incredible. But we're actually trying to make something that we just love and that inspires us and comes from a really, really deep place.
You chose to cover "Shout" by Tears For Fears. Are they a big influence to your music?
Their big influence is for me lyrically. I mean, musically they're just incredible songwriters. Moonhead had that song for a while. He was working on some remixes and at first we didn't know we gonna use it in Trope. As we started continuing work and the instruments started peering down from electronic to more organic to rock and all of a sudden it took this direction where we said: "Wait a minute. This could totally work."
And it was so great because I love that song. I love what I feel it stands for and how you can be listening to the lyrics and just interpret anything you think it is. The way they write is just beautiful and so inspiring.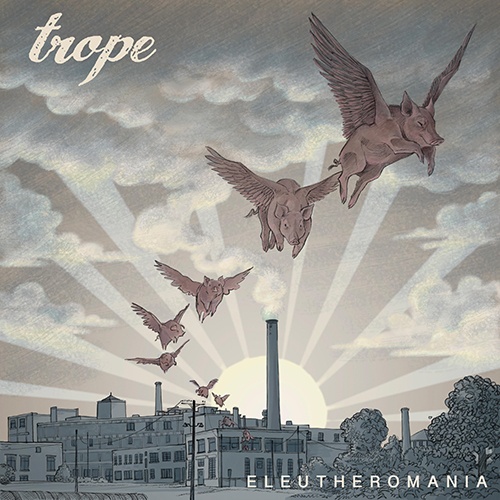 Trope – Eleutheromania
"…is an outstanding debut and will undoubtedly occupy a top position in my top 10 list for 2021."
What other bands or musicians do personally like? I heard of Dream Theater…
I was a die-hard Dream Theater fan when I was young, in my teenage years. I haven't actually listened to them in a while, but at some point maybe I'll see them in concert again.
Recently, when we're worked on the album, I was cycling between Jeff Buckley and Nina Simone. Just listening to them over and over and over again…
But I also love so many bands. I'm a big Pearl Jam fan. I like Soundgarden, Radiohead. Moonhead is a big fan of Peter Gabriel.
You worked on the debut with studio legends Mike Fraser, David Bottrill and Ted Jensen. How did it come to that?
With Mike – we emailed him. At the time, Moonhead was producing all the demos. We sent the stuff to Mike. Then we had a meeting with him, he listened to them and he really liked it. He liked that he didn't know where things were going. He usually doesn't listen to something all the way through all the time. He listened to the thing from beginning to end. And that was really cool. He seemed to really dig the music. It's something different to what he usually does, which is more the classic Rock. His attention to detail and the way he hears frequencies is insane.
We emailed him and said: 'Do you wanna mix this thing? Here are the songs.'

D.S. about the start of the relationship with mixing legend David Bottrill
Same thing with Bottrill: We emailed him and said: "Do you wanna mix this thing? Here are the songs." He also consulted on the project. We sent him the demos beforehand and asked: "Got any things that you suggest or arrangement-wise?"
Then Ted Jensen mastered the album. And it was very similar. We emailed him and said: "We've got these guys on board: He mixed it, he produced it. You wanna master it?" And so the team came together this way, just by sending this stuff.
What about a second album? Will it be different from the debut?
We are really inspired to make the second album more progressive and take things for a walk. We wanna do different things, maybe with more backing vocals or some ethereal moments. I speak some different languages and grew up with Aramaic music. My mom played Arabic music when I was young. It's such a mishmash of inspiration and we wanna include some.
Let's talk about your other project: Divine Astronaut. It's more in the electronIc department.
We do wear influences on our sleeves in that project. It was like an opportunity for us to do something different. Trope is like very crafted and takes a million tries to get something going. While Divine Astronaut is a nice kind of creative outlet where we're able to explore different kinds of ideas and different vibes. It's very exploratory and I'm excited of getting more exploratory in the next cycle of songs or in the next album.
You also have a second career as an actress. Can you tell us about it?
Currently, I'm auditioning and got some acting representation in Vancouver. And I just love it, it is a passion totally – performance in general whether it's music or acting. It gives you that feeling of being in the moment. And everything just washes away. And all you can do is just focus on what's in front of you. The anxiety and all that stuff that's in your head, it just really helps to wash that all away.
Music is like your baby in a sense.

D.S. about one of the two passions in her professional life
And what's more important to you? Acting or singing?
They're totally different things. Music is like your baby in a sense. You give birth to it and it belongs in the world. It's free, it's not yours anymore. It's coming from a different place, for me anyway, than acting. Where sometimes you might be writing the script but you likely aren't. You're necessarily delivering someone else's word. I'm trying to personalize it but still it's very different.
Are there any plans for a tour in Germany?
With the album release, we found it's been reaching quite a nice audience in Germany. People seem to be responding well to the music. I mean, we really wanna tour there. I think it would be awesome.
Your next video "Planes" will be released soon. How was the shoot?
The first of three shoots was awesome. We published a little bit of the footage. The second shoot is happening in Los Angeles. Our bass player is shooting his footage. And the third is gonna happen here in Bulgaria. Where Moonhead, our guitarist, is shooting his footage. And then it's all gonna be glued together.
One last question: How long do you plan to stay in Bulgaria?
We're supposed to be here for a couple of months. But I think we might actually be here until the end of August.
A big "Thank you" to Diana Studenberg for the really nice chat. Hope to see you and the other guys from Trope at a gig soon!
Here you can see the full interview with Diana: